Plywood is an engineered panel, typically composed of an odd number of thin layers of wood veneers, called plies, bonded together with a rigid adhesive and with the grain direction of adjacent layers perpendicular to each other.
The cross laminated structure further enhances the high strength and stiffness to weight which is a major reason plywood is used in such applications as cladding, interior lining, flooring, formwork, road transport and materials handling.
Plywood from plantation timber is an environmentally friendly material and can be used both aesthetically and structurally.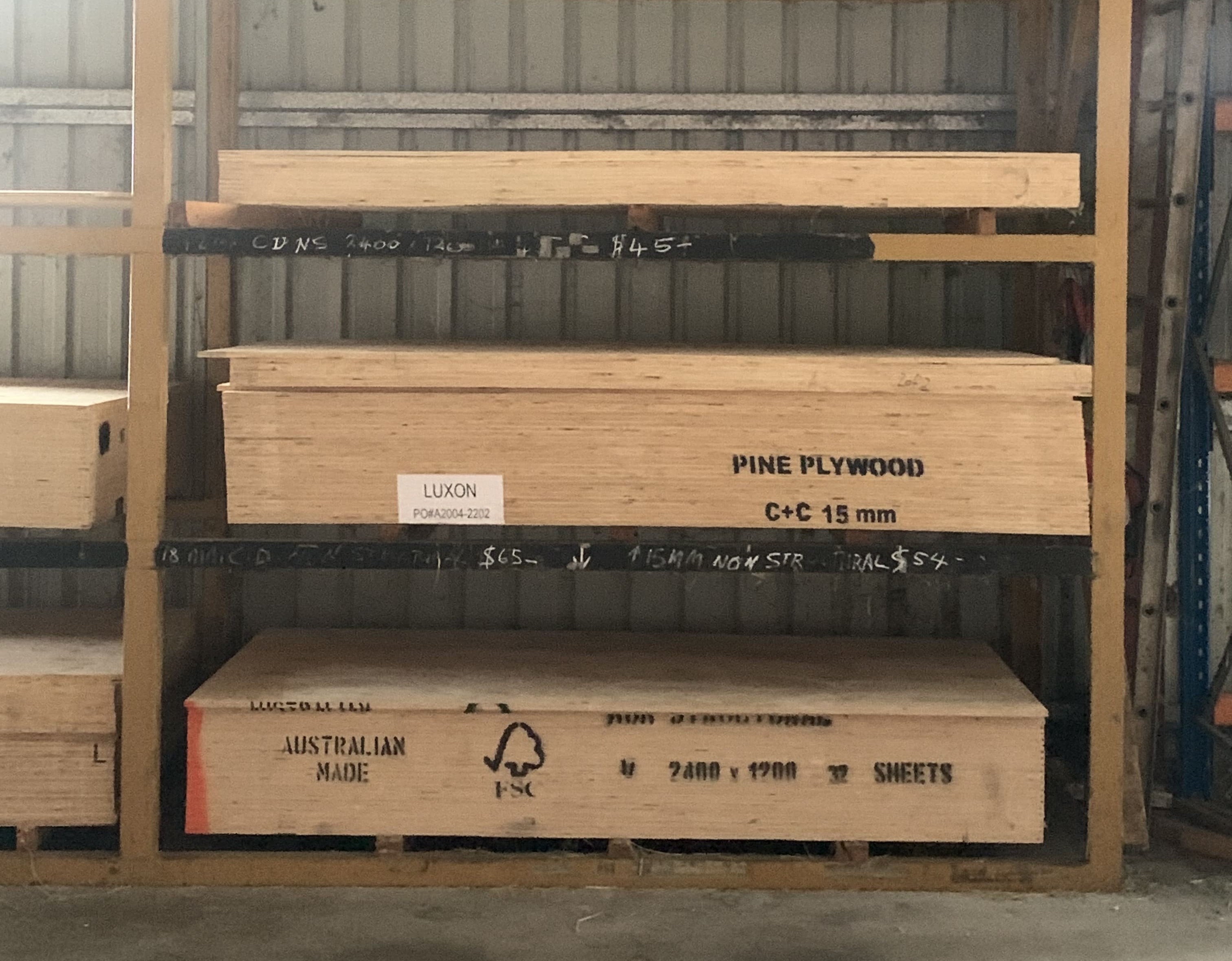 | Code | Pack | Sheet Size & Thickness |
| --- | --- | --- |
| BH1 | 230 | 2440 x 1200 x 4 mm |
| BH2 | 205 | 2745 x 1200 x 4 mm |
| BH3 | 230 | 2745 x 900 x 4 mm |
| BH4 | 205 | 3050 x 1200 x 4 mm |
| Code | Pack | Sheet Size & Thickness |
| --- | --- | --- |
| NS7 | 140 | 2400 x 1200 x 7 mm |
| NS9 | 108 | 2400 x 1200 x 9 mm |
| NS12 | 80 | 2400 x 1200 x 12 mm |
| NS15 | 65 | 2400 x 1200 x 15 mm |
| NS18 | 54 | 2400 x 1200 x 18 mm |
| NS25 | 39 | 2400 x 1200 x 25 mm |
C/D Structual Ply
Australian Manufactured to A.S. 2269
| Code | Pack | Sheet Size & Thickness |
| --- | --- | --- |
| CD7 | 75 | 2400 x 1200 x 7 mm |
| CD9 | 60 | 2400 x 1200 x 9 mm |
| CD12 | 45 | 2400 x 1200 x 12 mm |
| CD17 | 32 | 2400 x 1200 x 17 mm |
| CD19 | 30 | 2400 x 1200 x 19 mm |
Bendy Ply
Australian Manufactured to A.S. 2271
| Code | Pack | Sheet Size & Thickness |
| --- | --- | --- |
| BP1 | 100 | 2440 x 1220 x 5 mm Cross Grain |
| BP2 | 100 | 2440 x 1220 x 5 mm Long Grain |
| Code | Pack | Sheet Size & Thickness |
| --- | --- | --- |
| E6 | 90 | 2440 x 1220 x 6 mm |
| E9 | 60 | 2440 x 1220 x 9 mm |
| E12 | 45 | 2440 x 1220 x 12 mm |
| E15 | 40 | 2440 x 1220 x 15 mm |
| E18 | 35 | 2440 x 1220 x 18 mm |
| E25 | 25 | 2440 x 1220 x 25 mm |
| Code | Pack | Sheet Size & Thickness |
| --- | --- | --- |
| EC12 | 45 | 2745 x 1216 x 12 mm RUFFSAWN SHIP LAP |
| EC13 | 45 | 2400 x 1200 x 12 mm RUFFSAWN SHIP LAP |
Floor Ply T & G
Australian Manufactured to A.S. 2269
| Code | Pack | Sheet Size & Thickness |
| --- | --- | --- |
| FP154 | 35 | 2400 x 1200 x 15 mm |
| FP157 | 35 | 2700 x 1200 x 15 mm |
| FP174 | 32 | 2400 x 1200 x 17 mm |
| FP177 | 32 | 2700 x 1200 x 17 mm |
| FP194 | 28 | 2400 x 1200 x 19 mm |
| FP197 | 28 | 2700 x 1200 x 19 mm |
Form Ply
Australian Manufactured to A.S. 2269
| Code | Pack | Sheet Size & Thickness |
| --- | --- | --- |
| FP172 | 40 | 1800 x 1200 x 17 mm |
| FP12 | 75 | 2400 x 1200 x 12 mm |
| FP17 | 40 | 2400 x 1200 x 17 mm |
| FP25 | 30 | 2400 x 1200 x 25 mm |
| Code | Pack | Sheet Size & Thickness |
| --- | --- | --- |
| J3.62 | 50 | 3050 x 1220 x 3.6 mm |
| J3.63 | 50 | 3050 x 1530 x 3.6 mm |
| J121 | 40 | 2440 x 1530 x 12 mm |
| J122 | 40 | 3050 x 1220 x 12 mm |
| J181 | 30 | 2440 x 1530 x 18 mm |
| J182 | 30 | 3050 x 1220 x 18 mm |
| J183 | 30 | 3050 x 1530 x 18 mm |
| J184 | 30 | 3050 x 1830 x 18 mm |
Marine Ply Gaboon (BS1088)
| Code | Pack | Sheet Size & Thickness |
| --- | --- | --- |
| GM3 | 100 | 2440 x 1220 x 3 mm |
| GM4 | 90 | 2440 x 1220 x 4 mm |
| GM6 | 80 | 2440 x 1220 x 6 mm |
| GM9 | 60 | 2440 x 1220 x 9 mm |
| GM12 | 45 | 2440 x 1220 x 12 mm |
| GM15 | 40 | 2440 x 1220 x 15 mm |
| GM18 | 35 | 2440 x 1220 x 18 mm |
| GM25 | 25 | 2440 x 1220 x 25 mm |
| Code | Pack | Sheet Size & Thickness |
| --- | --- | --- |
| PW9 | 60 | 2400 x 1200 x 9 mm |
| PW12 | 50 | 2400 x 1200 x 12 mm |